No of visitors who read this post:
202

I have an application installer package and I want to add inNI-DAQmx MAX Configuration Support 9.4. I am using LabView but it is a network install so I don't have the CDs which of course the installer is asking for! That went to the NI website and downloaded the NI-DAXmz 9.4 installer, I then unzipped it and tried to put it in the correct folder
Then I receive an error message and there is no inclination of how to fix it. Any idea how I would go about it?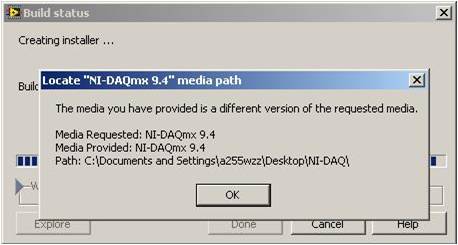 The media you have provided is a different version of the requested media.
Media Requested: NI-DAQmx 9.4
MEDIA Provided: NI-DAQmx 9.4
Path: C:\Documents and Seetings\a255wzz\Desktop\NI-DAQ\