No of visitors who read this post:
824

Hi All,
Active directory DSA.msc access denied error
When i click the users and computers i get the below error. not sure why. I have administrator access and was working well till last week when i last checked.
C:\WINDOWS\system32\dsa.msc
Access is denied.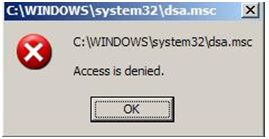 Any expert advice would help
Thanks
John