Below are Don griffin's Questions. Did not find what you want
Hello,
I am having problems with my Network Connections folder or the Local Area Connection. I can't seem to find it. When I tried to refresh the network connection folder, an error pops out requesting me to enable the network connection services. If I clicked on the network connection icon, the folder is empty. I can't change the IP address since my Local Area Connection icon is missing as well. How can I make it visible again?

I recently bought two Cruzer USB Flash Drive by SanDisk and I am trying to back up my photos in iPhoto using my iMac OS X Lion but the transfer failed. I was redirected to a page where it says "This page cannot be run in DOS mode". When I tried to copy the folders on my desktop to my flash drive, it worked. But copying iPhoto photos failed. What is the problem and how can I fix it?

I used BlackBerry Torch and I've been trying to download some apps in the App World but it seems that the App World is down. I could not even reach BlackBerry ID login. My network connection is firm and works properly. Does anyone here experience the same thing? What did you do to fix it?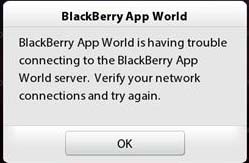 BlackBerry App World
BlackBerry App World is having trouble connecting to the BlackBerry App World server. Verify your network connections and try again.