Below are Alfonso ty's Questions. Did not find what you want
Hello,
I have used YouTube without any trouble for years. Today YouTube was fine when I logged on my computer.
It all clustered and just text when I checked my inbox, so to see this error: "Hello, you either have JavaScript turned off or an old version of Adobe Flash Player.
Get the latest Flash player." When I went to my channel I updated my flash player and double-checked I had JavaScript enabled.
I restarted Firefox when it still did not work. Is it just me or do any of you gets this problem and to fix it what needs to be done?
Hi there,
I have a problem with my computer screen. This morning the screen went off color, and then my computer froze. I couldn't press the power button normally to restart it, so I had to pull the plug. When it started up again, horizontal lines crossed the screen. On the windows startup, there were red lines going down my screen. Then everything went black on the screen but the CPU lights were still lit up, and the computer was still on. Is there any way to run a system restore?
I don't have a windows startup disk.
I get this error message" nRoute registry is having problems. Re-install the nRoute please and run it again. " when I run this program. This happened when I downloaded latest nRoute update and no problems occur during installation. Without any success, I tried to re-install the program. What do I need to do to get nRoute to function, and does any one have such experience with this type of problem?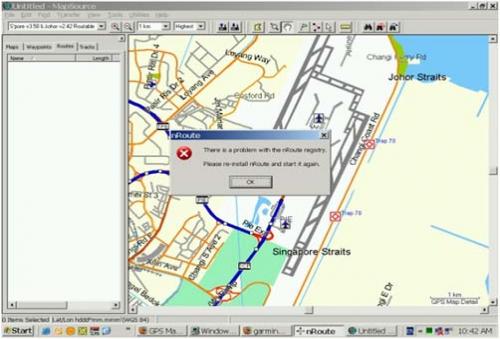 My production software is currently being re-installed after I have done a clean install of Snow Leopard. After downloading the Max/MSP latest 4.6 version, I have tried to install the software and got a strange error message. I am very curious about a possible solution because I never got this strange error message before.
Can anybody help me, please?
Error:
The installation failed.
The following installation step failed: run postflight script for InterLok Extensions. Contact the software manufacturer for assistance.
When I try to add an .msi package to a group policy using windows 2008 server, I receive this error message quite often:
"No package in the software installation data in the Active Directory meets these criteria"
The message comes up just after I select the .msi and before I get to the box where I can select "Assigned" or "Advanced". In addition, I am not having any trouble creating deployments on any of my Windows 2003 server.
Can anyone help me, please?
I'm receiving the following error message:
"The needed sample rate (44100Hz) couldn't be set and is not supported by the ASIO driver. Please try another sample rate."
I faced this problem while using FL8 and according to research and comments it was supposed to be sorted in FL Studio 9. However, I am still facing the same problem after installing the newer version of FL9. Is there anything I'm missing in fixing up this issue?
Following are the specifications of my computer system.
FL Studio 9
Intel Core 2 Duo (6400)
4G RAM
Windows XP SP3 32bit
EDIROL FA-101 Sound Card (ASIO Ready)
Regards, Alan.
I really need an Expert advice. My problem is my video in VOB. The video has pictures with perfect quality however when inserting the sound to go with the pictures, the sound is really terrible. And also, the video is splitted into 4 parts and I want to know how I can merge those parts. Or if it is possible to do that. Please send me a detailed instructions on how to do it correctly. Thanks.
Please advice what could have been wrong with my Prime Tool. I have installed the latest version of Java already but it keeps on saying that I need to install the latest version of Java.
Anyone here who happen to have a similar experience before?
Where you able to fix it?
Please assist. Thank you.
I wanted to ask if you've heard or know about ZABBIX? I wanted to get your feedbacks regarding its features and usability in different network severs. Also if you can recommend some online guides and resources that I can compile for my study. Thank you.