No of visitors who read this post:
2730

Android is becoming increasingly popular among the operator community – some 55+ operators worldwide have already launched devices over their networks. More than 70,000 applications were flowing over Android's Marketplace store by 1H10, up from just 5,000 at the same time last year, and have generated over 1 billion downloads worldwide since Marketplace's launch. What the factor that resulted in increasing of Android OS was discussed as below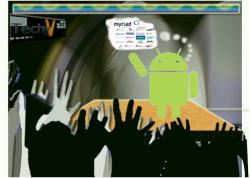 Open Handset Alliance
Google was a core driver behind the creation of the Open Handset Alliance (OHA). The OHA was formed in November 2007 and today has 77 members from across the mobile industry value chain: 12 mobile network operators; 20 device manufacturers; 20 semiconductor companies; 15 software solutions; and 10 software commercialization companies. Android, the OHA's platform, has helped Google attract widespread interest from a number of leading companies in the mobile industry. The popularity of Android opens a potential opportunity for Google to create a large market for its mobile advertising and mobile search activities. There is also likely to become future synergies with Google's activities in social networking and in the enterprise market.
Deep software to hardware integration
In the early stage of Android's deployment, a number of productization companies and small ODMs failed to deeply integrate the operating system (OS) with the device hardware in a way that would offer a
premium user experience. However, a number of chipset manufacturers ,Broadcom and, particularly, Qualcomm are now deeply integrating the OS to their chip sets. This has now led to the creation of a new generation of devices that offer a superior user experience, a high performance and low power consumption without compromising the cost of the device.
Time-to-market and customization
Time-to-market is another of Android's advantages. A number of software solution vendors and integrators are helping device vendors to add Android to their reference designs with the aim of enhancing the performance of Android applications while also speeding up the time-to-market for next-generation Android devices. Examples of companies working in this environment include VirtualLogix, Myriad, WindRiver, Tieto, Teleca and ENEA.
Support for Web technologies
Android is Web-oriented software and so has the ability to support a number of contextual applications that mash up Web content with device functionality. It is one of the first OSs to support some HTML5 functionalities, which makes this platform very attractive for business users and consumers.
Applications development
Android is fully open to developers so that they can access device APIs and create innovative applications around the platform and fully use the hardware resources and features the device offers. Each time a version of Android is launched, a comprehensive SDK is released enabling developers to take full advantage of the new features and capabilities available over this version.