No of visitors who read this post:
2031

Just after you get yourself an electronic device and start using it, you realize that it cannot go on like that forever and it needs to have its energy refilled. All the electronic devices need some backup energy and for this purpose batteries and chargers are used. Many of these devices comes with unique styles of formation and thus their methods of re-fueling are also unique.
You are usually provided with specific recharging devices, however, there comes a problem when that particular device is damaged in some way or you cannot find it. In that case, such devices have been introduced which are wireless and can be used to charge almost every gadget.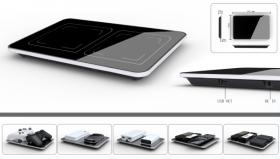 Powermat and Universal Wireless Chargers is an advance in this respect. However there is a problem with them as well as they need to be accommodating with the wireless charging standard in use which prevents many of the devices from being connected to it. The ElectroHub drives away this problem as well. This magical device works almost exactly as the Powermat. The difference only comes in this way that it keeps no restriction of compliance of battery. This new charging station is completely wire-less and involves no hassle of wire carrying and protection. The ElectroHub pack also includes a series of compatible batteries which can be inserted into a device instead of the one present in the device. This provides the device with the compliancy required for connecting with the ElectroHub. ElectroHub batteries come in a variety of standard sizes like AA and AAA.
The replacement of the device's battery with the one of Hub will make it compatible with the ElectroHub. Charging is a simple process. Just put it on top of the ElectroHub and the recharging starts.
Do you have a device which contains a non-replaceable battery? There is no need to worry. ElectroHub provides a solution in that case as well. A protective case is provided which works just like a Powermat. It fuels up the device's non-replaceable battery by acting as a converter.
The size of the hub is approximately 9.2 inches by 6.1 inches by 0.8 inches. It is of a very light weight i.e. 11 ounces. The ElectroHub is capable of charging as many as six devices simultaneously.
Up for buying? It costs $39 if you want a simple set of batteries. However, if you require multiple sets of batteries, you can buy them on your own and that requires an additional $10. This price is approximately the same as a set of ordinary batteries of particular brands.
Go for it and you will not regret it. Recharging your devices is no longer a problem now. Your devices can gain energy now anytime, anywhere without any trouble of plugging in or carrying around a tangle of wires.