No of visitors who read this post:
3549

Method of how to install the software which is Adobe Photoshop version CS5 in windows operating system?

First of all after download Adobe Photoshop CS5. Open the folder where you download the Adobe Photoshop CS5 usually its download location is in downloads in My Documents in Windows XP. Double click the last option which is "set up" as shown in picture below to start the installation.

Then a software installation process will start like the one in below picture that Adobe installer loading has just been started.
Let this loading complete.
After completion of this loading a new window will open like this in which it Adobe software agreement is written and two options are coming install and quit.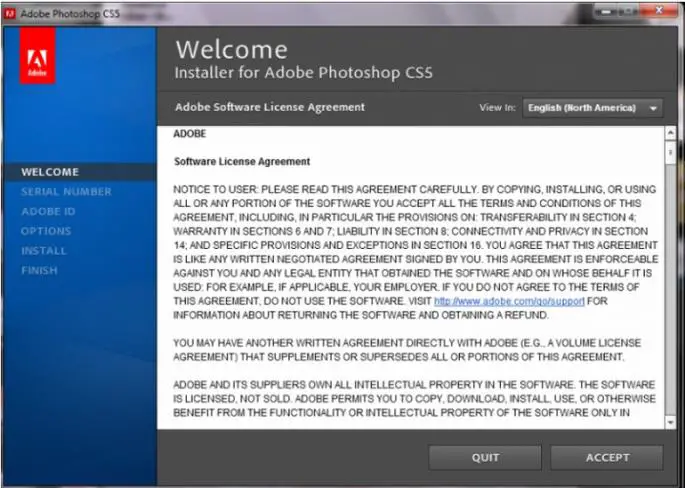 This is the part one of installation process as named in the picture with "welcome" choose the language you wish to install in the option view in I accept "English north America" then click Accept.
Then next part will come which will ask you about the serial number or if you wish to install trial version which is for thirty days.
This is the second step in which you have to Choose any option you want then choose language again then click next in the box. After that if you choose trial installation you don't need Adobe id then directly "option" menu will come.
In installation option you have to select location where you want to install the software in your system and to click a product name to customize options. Picture of this procedure is given below:
Then click install your installation will start in the location which you have selected normally software's are install in C drive > program files >Adobe
As you see above installation progress is starting where at one side time is being calculated by the system and at other side percentage of completion of software us coming.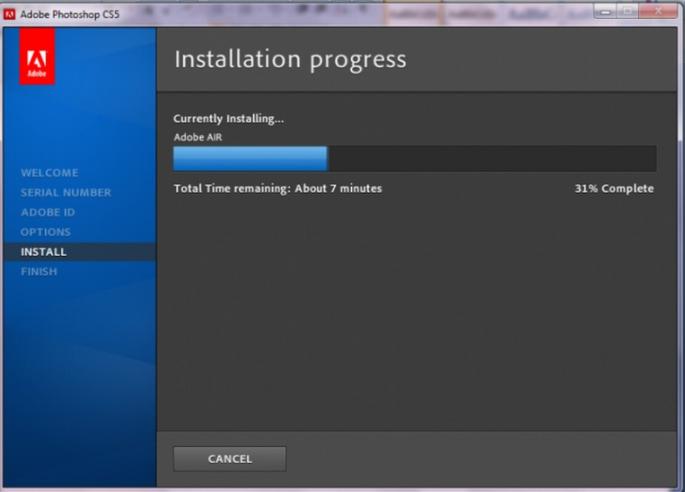 Snapshot during the installation process. Which is showing that installing will complete in seven minutes and is thirty one percent completed? After seven minutes approximately the installation will be hundred percent complete then finish step will come
This is the completion of installment of Adobe Photoshop click done to start using the Adobe Photoshop version CS5 or to watch video tutorial about Adobe Photoshop click "view video tutorials".
Then video tutorial will appear in the screen which will guide you how to use Adobe Photoshop CS5.