Display :
How do I use MYSQL to store data that has been collected in a webpage form?
Hi,
My launchpad is not working. I have downloaded the latest driver, update the operating system with latest service pack and reinstall the launchpad but when I connect the device with USB port, it shows 'unrecognized device' with following message. Have you experience such problem or have any idea on it?
Please share.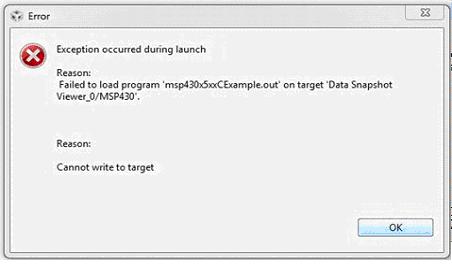 Error
Exception occurred during launch
Reason:
Failed to load program "msp430x5xxCExample.out" on target "Data Snapshot Viewer_0/MSP430".
Reason:
Cannot write to target
your,
Jonson
Hello,
I just upgrated my system to opensuse 11.1. But it's not working properly. The following message is appearing.
The said file resists in hard drive, but it is not recognizing.
I tried to recognize the file several times by clicking 'retry' but it's not working.
What is it's solution?
Please let me know.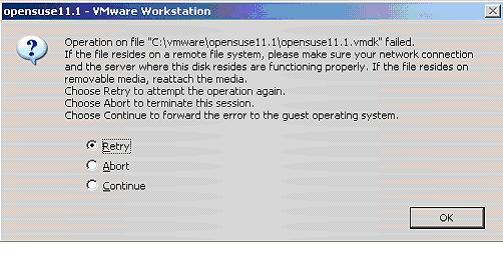 opensuse11.1 – VMware Workstation
Best wishes,
celvin
Error:
Hi
While try to access Win32 programs remotely in Windows XP SP3, the following message encounters.
But it happen not with all workstations. About one third of the workstations are encountering such problems.
Is this due to SP3?
Should I go back to SP2?
Please suggest me. Our lab works are hampering.

Error
Nubmer: 0x80041001
Facility: WMI
Description: Generic failure
Thanks,
brian
Hi,
DVD burning becomes a tragedy for me. Recently I have upgraded my system from XP to Windows 7. Consequently I have updated all the software. But when I try to burn DVD the following error occur and the disk become ruin. I don't know why it's happening. I am using latest versions of all software. Would you please know me the solution?
CDBurnerXP
Burning error occurred
An error occurred while burning the disc. Most likely the disc is not usable.
Usually, these errors happen if the inserted media is not compatible to the drive or of poor quality.
Hi,
I downloaded a music player from a download site.
Since then I tried to install it but failed and each time the following message is appearing. Is this due to my system permission is off or something else.
I use Windows Vista Home Edition in Dell Optiplex.
I have scanned the downloaded program several times but no virus has been found.
At this circumstance what should I do?
Action Center
This program will not run
Windows did not trust this program because its identity can't be verified.
Regards,
Melinda
Dear .Net users,
I am facing a savvier problem with the following message. I am pretty new to the .Net environment, and have little experience in error handling. I tried to find a solution in MSDN, but it messed up my mind.
Please discuss the matter in a simple way.

Microsoft Development Environment
An unhandled exception of type 'System.ComponentModel.LicenseException' occurred in chartfx.dll
Additional information: Couldn't get Run Time license for 'SoftwareFX.ChartFX.Chart
Break Continue Ignore Help
Regards,
Chayna
Hello,
I have installed ComboFix to remove malwares. But it's not working yet and message displaying 'MS Windows recovery console' is not installed. I don't know what is the correlation between these two and how to install Windows Recovery Console.
I need your suggestion regarding the matter.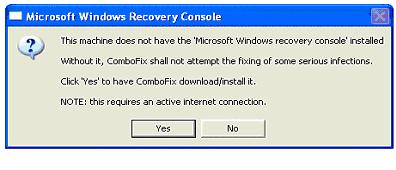 Error:
Microsoft Windows Recovery Console
This machine does not have the 'Microsoft Windows recovery console' installed
without it, ComboFix shall not attempt the fixing of same serious infections.
I use Microsoft Outlook 2007 as email client. Unfortunately,when I installed add-on in Outlook the following error message was appeared. I talked with one of my friend and he told me that it is the conflict between and outlook and Windows registry server. Is it true and what is the solution?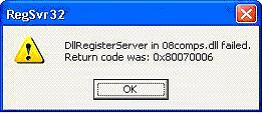 RegSvr32
DllRegisterServer in 08comps.dll failed.
Return code was: 0x80070006
Thanks,
Lidia
Hello,
I wish to store my company data in xml format. I use Office 2007 and tried to generate xml from Microsoft Excel.
But when I try to generate xml the following error message appear.
All other functionality of Excel is just fine except about XML.
If you know the solution please let me know.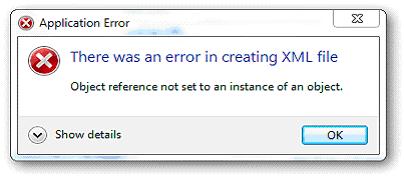 Application Error
There was an error in creating XML file
Object reference not set to an instance of an object.
Wishes,
Miller